Thunderbirds Charity Spotlight – Phoenix Art Museum Teen Engagement Initiative
There have been a number of changes at the Phoenix Art Museum under the leadership of Amanda Cruz and her team, starting with the Teen Engagement Initiative, a program that offers a community alternative  for safe programming for teenagers and a place to hang out and express themselves.  Thunderbirds Charities has been instrumental in this program from the beginning, and are proud to see all of the great things happening at the Phoenix Art Museum.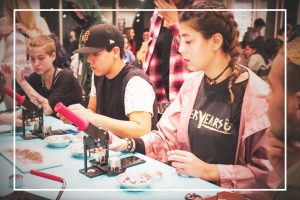 In its second year, the Teen Art Council  is made up of a diverse group of high school students representing different socioeconomic levels and schools from throughout the Greater Phoenix area during a nine-month service-learning program. These students are supporting the growth of teen audiences at the Museum through planning and execution of free workshops, events, and teen nights.  By empowering teens to create programming for their peers, the Museum is engaging teens in a new and unique way and ensuring programming will appeal to a teen audience.