Military and Emergency Services Personnel
FREE TOURNAMENT ADMISSION FOR FIRST RESPONDERS AND U.S. MILITARY
Waste Management Phoenix Open tournament hosts The Thunderbirds invite all First Responders as well as Active, Reserve and Retired U.S. Military personnel and one accompanying individual to be their guests (free of charge) at the 2019 Waste Management Phoenix Open. This is the 18th year that The Thunderbirds have extended this free invitation as a small gesture of thanks for all these heroes do for our country.
TO TAKE ADVANTAGE OF THE FREE ADMISSION OFFER:
You must verify your status through Sheer ID.
Eligible personnel must present their official military ID or badge at any ticket booth at the main tournament entrance.
Business cards and pay stubs will not be accepted as forms of ID.
Tickets are limited to two per day, per each official military ID.
Standard tournament spectator policies will be in enforced, including no firearms allowed.
PATRIOTS OUTPOST FREE TO ALL U.S. MILITARY – ACTIVE DUTY, RESERVE, & RETIRED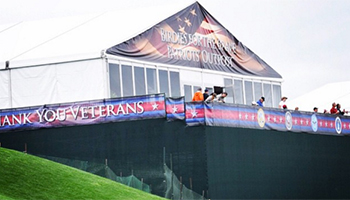 The Birdies for the Brave Patriots Outpost is a complimentary hospitality tent for all active duty, reserve, and retired U.S. military from all five branches of the Armed Forces — to enjoy Wednesday through Sunday at the Waste Management Phoenix Open. Located near the 18th tee box, military personnel (+ two guests) can enjoy great food and drinks (complimentary) and watch PGA TOUR golf action in a relaxed and comfortable setting.
We want all of our military heroes to get the chance to experience the Birdies for the Brave Patriots Outpost, so official military ID's will be required to gain access, and the 2 guest maximum guideline will be strictly enforced to help keep the crowds and wait times down.