Waste Management, based in Houston, Texas, is the leading provider of comprehensive waste management services in North America. Through its subsidiaries, the company provides collection, transfer, recycling and resource recovery, and disposal services. It is also a leading developer, operator and owner of landfill gas-to-energy facilities in the United States. The company's customers include residential, commercial, industrial, and municipal customers throughout North America.
To learn more information about Waste Management visit them Online at:
Sustainability at the Waste Management Phoenix Open
Waste Management and The Thunderbirds realize that every choice we make during the months of planning for the WMPO affects our claim to the title of "The Greenest Show on Grass." The Thunderbirds, Waste Management, the PGA TOUR, TPC Scottsdale and all of the tournament stakeholders will continue to be trailblazers on this journey towards increased sustainability. Along the way, we are thrilled to share best practices so that other sporting events and venues can do their part to green the games.
ZERO WASTE CHALLENGE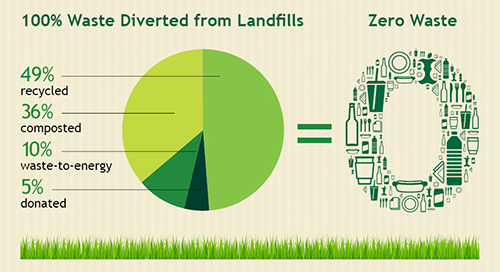 In 2012, WM launched the Zero Waste Challenge to control event materials and educate attendees so that zero waste is sent to the landfill.
Like the previous three tournaments, there were no trash receptacles on the golf course, only recycling and compost bins.
WM continued utilizing three Zero Waste Stations, repurposed 40-cubic yard dumpsters that WM transformed into eye-catching kiosks where fans can drop off waste items with volunteers who sort the materials.
The WMPO displayed 88,337 square feet of signage, 60% of which was reused from 2014. Over 75% of the 2015 signage is stored for potential reuse.
Over 30,000 pounds of unused, perishable food from the WMPO was donated locally to Waste Not and Church on the Street.
WM worked with Habitat for Humanity ReStore to donate over 25,900 pounds of mesh scrim, carpet, turf, and vinyl fence signage, most of which WM had reused outdoors since the 2010 event.
In 2015, we achieved our goal of diverting 100% of all tournament materials from the landfill. This was calculated in the same way that most events and businesses report on their waste diversion performance, by measuring the proportion of different streams leaving their sites or venues. Since 2013, UL has verified the WMPO's waste diversion rate, and in 2015, we maintained UL's "Zero Waste to Landfill Operations with 10% incineration with energy recovery" validation. For an event with total attendance approaching 600,000, the Zero Waste Challenge is a success that propels our sustainability initiatives to a higher level than ever before.
VENDOR MANAGEMENT
To support the ambitious goals of the Zero Waste Challenge, all WMPO vendors sign a Zero Waste Challenge Participation Agreement, or Requirements for Acceptable Materials, agreeing to only use materials on site that are locally recyclable, compostable or reusable. WM checks in with all vendors before the WMPO and when they arrive on course.
WATER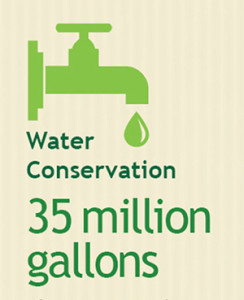 The event implements conservation measures to ensure that this valuable resource is used responsibly and limits pressures on the municipal water supply. For example, hand-washing stations used hand sanitizer instead of water and portable toilets in general use less water than conventional toilets.
In 2011, the WMPO imitated a greywater operation to reuse water from cooking and cleaning in the portable toilets. Since then, approximately 12,500 gallons of water was been reused through this initiative, and in 2015, WM estimates we collected a record 6,100 gallons for reuse.
In 2015, WM started the WMPO Water Campaign, becoming a Change the Course (CtC) sponsor by restoring 35 million gallons to the Colorado River Basin and the Verde River in Arizona. Visit the WMPO Change the Course site to learn about the Campaign and make pledges or donations.
For the 2015 event, WM again tracked fresh water usage to estimate that approximately 47,340 gallons of fresh water was used at TPC during the tournament. This is 28,980 fewer gallons of fresh water usage compared to the 2014 WMPO. About 24,996 gallons of water were sold as bottled water in 2015, and 21,047 gallons of fresh water were used in the portable toilets.
ENERGY
In 2015, WM worked with ClimeCo Corporation to offset all greenhouse gas emissions from WMPO operations as well as all player travel, a total of 300 metric tons of carbon dioxide equivalent (MTCO2e) through a landfill gas capture to energy project in Rodman, NY. Greenhouse gas emissions from WMPO operations totaled 154 MTCO2e while player travel generated 86 MTCO2e.
Since 2011, 100% of electricity has been provided by renewable energy through the local utility.
Solar power has completely powered WM's hospitality tent since 2011, and solar light towers and solar compactors continue to be used in key locations on the course.
THE WASTE MANAGEMENT EXECUTIVE SUSTAINABILITY FORUM
Since 2011, Waste Management has capitalized on the WMPO to attract spectators and golf fans from throughout the business world. These unique groups of stakeholders are the industry's movers and shakers, eager to be a part of WMPO's groundbreaking sporting event.
The one-day forum is a carefully orchestrated, high-level discussion about sustainability, attracting business executives from various industries and public sectors as well as prominent non-governmental organizations.
This year's Forum, with a theme of "Energy Evolution: Powering Change Through Innovation, Efficiency and Technology," saw a 23% increase in attendance from the previous year, and an online engagement reached 30,898 viewers.
This year's forum featured keynote presentations from David Steiner; Amory Lovins, American physicist, environmental scientist, writer, Co-founder/Chief Scientist of the Rocky Mountain Institute and considered among the world's leading authorities on energy; and Gwen Ruta, Vice President, Programs for Environmental Defense Fund, a leading nonprofit organization linking science, economics and law to solve the planet's most serious environmental problems. The program also featured three "Future Views" presentations: Yalmaz Siddiqui, Senior Director of Environmental and Supplier Diversity Strategy at Office Depot; Gregory Kallenberg, Director and Producer of the Rational Middle Energy Series; and Allen Hershkowitz, President of the Green Sports Alliance and Distinguished Professor in Sustainable Management, Presidio Graduate School. The Forum concluded with a panel discussion featuring high-profile representatives from sports franchises, including the NFL, NHL, NASCAR and the WMPO, who examined what businesses and communities can learn from the world of sports.
PGA TOUR SUSTAINABILITY CHALLENGE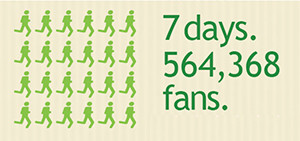 For the 2014 WMPO, WM worked with the PGA TOUR to establish the Sustainability Challenge in an effort to recognize and spread sustainability-driven event planning. The voluntary contest invited all PGA TOUR tournaments to fill out a questionnaire to provide details their respective sustainable event initiatives. In 2015, the Sustainability Services team at WM continued this evaluation and graded 22 participating tournaments.
The RBC Canadian Open received the highest cumulative score for Materials Management, Natural Resources Tracking and Conservation, Economic Impact and Overall Sustainability. As the winner, RBC Canadian Open leadership will attend the upcoming Waste Management Phoenix Open and Waste Management's fifth annual Executive Sustainability Forum.
THIRD PARTY CERTIFICATIONS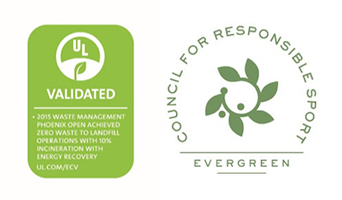 In 2015, we again worked the Council for Responsible Sport, which formally recognizes the successful completion of a socially and environmentally responsible sporting event with a two-year certification, achieving Evergreen, their highest level of certification.
WM also worked with Underwriters Laboratories Environment Inc. for the third straight year, achieving "Zero Waste to Landfill Operations with 10% incineration with energy recovery."
WM hopes to set the standard by which all sports are measured. For more information, see the sixth annual WMPO Sustainability Assessment Report.
SOCIAL BENEFITS
Social benefits from the 2015 WMPO came from charitable giving, community stakeholder engagement, and involving students and underrepresented groups as much as possible.
Charitable Donations
The 2015 WMPO is expected to generate over $8 million for charity when the final number is announced later this year; this will surpass the $7 million donated from the 2014 WMPO. Donations are made to more than 100 different charity organizations throughout the year and used to fund additional improvements to the local community, ensuring a lasting positive impact from the WMPO.
This total includes the "Green Out for Charity" campaign. Saturday at the WMPO is "Green Out Day." For every person who wears green, The Thunderbirds donate "green." A total of $75,000 was raised for three local environmental groups.
Fan Engagement
WM launched the "Green in 15" social media video contest in advance of the 2015 WMPO. All legal residents of the 50 United States and the District of Columbia who are 21 years of age or older were invited to creatively demonstrate how they commit to going green in 2015, in 15 seconds or less, using Instagram's video platform.
The "Green in 15" video contest is one of the many ways that WM continues to educate and engage consumers about sustainability at the WMPO. WM continued to promote the use of the hashtag #GreenestShow to provide an outlet for fans to share their green practices and support for sustainability and sports.
Youth Involvement
Youth engagement is important social benefit from the WMPO, involving grade school and high school students in the Standard Bearer Program and First Tee Dream Day activities. Standard Bearers are volunteers who hold the player score signs, walking around with a player grouping. During a round, a Standard Bearer can walk up to seven miles. At the 2015 WMPO, 288 students between the ages 18 and under participated in the Standard Bearer program.
First Tee Dream Day activities occur Tuesday of tournament week and involves students who would likely not have the opportunity to attend the WMPO, and would certainly never have the chance to engage in the First Tee Dream Day Activities without these efforts. In 2015, a record 390 students participated from six schools in four school districts.
CBS Outdoor Special Olympics
The Thunderbirds and WM provide opportunities for differently-abled and disabled individuals to participate in WMPO activities. This is accomplished each year through the CBS Outdoor Special Olympics Open. In 2015, Arizona Cardinals' Head Coach Bruce Arians and kicker Jay Feely, Diamondbacks pitcher JJ Putz and outfielder AJ Pollock, former Diamondbacks Randy Johnson and Mark Grace and former Phoenix Suns Steven Hunter and Tom Chambers headlined the CBS Outdoor Special Olympics Open.
Held on TPC Scottsdale's Putting Green, the Special Olympics Open features ten Special Olympians, ten celebrities and sports stars, ten business leaders and PGA TOUR professionals all competing in a putting challenge.
ECONOMIC BENEFITS
Although there were no economic impact evaluations conducted for the 2015 WMPO, WM was able to project an estimate based on data from a previous study. In 2012, the WMPO's economic benefits were assessed in an Economic Impact Study conducted by ASU Center for Competitiveness and Prosperity Research in the W. P. Carey School of Business. ASU calculated a total economic impact of the 2012 WMPO at $222 million. These results demonstrated that the Waste Management Phoenix Open is among the largest contributors of economic impact from a golf event across the nation.
Economic impact projections for the 2015 tournament extrapolated key data from the 2012 WMPO Economic Impact Study onto up-to-date attendee demographics and focused on the financial impact of event attendees. Last year, the economic impact was estimated to be $268 million. For the 2015 WMPO, it was projected to increase by roughly $9 million to $277 million.