Ben Silverman Wins Desert Ford Dealers Drive for your Ride Contest
First-year PGA TOUR professional Ben Silverman is riding around in a brand new Ford Expedition after winning the Ford Drive for your Ride contest at the 16th hole during the 2018 Waste Management Phoenix Open. Silverman's first and second round shots at the iconic par-3 measured a total of 15' 8" from the cup, good enough to win a new ride for himself and the 100 Club of Arizona.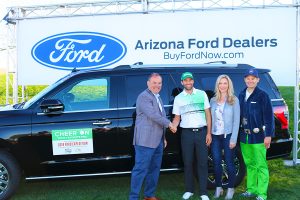 "As the official vehicle of the WMPO, we were looking for ways to heighten the excitement at 16 while also benefitting a deserving non-profit organization," said Tim Hovik, president of the Desert Ford Dealers. "We are thrilled that both Ben and the 100 Club of Arizona will drive away in new Ford vehicles."
Silverman cited the 100 Club of Arizona's commitment to public safety as the reason he chose to play on behalf of the organization.
"Morgan and I are so excited to win the Expedition," said Silverman. "It will be a great family car for us."