2023 WM PHOENIX OPEN AND THE THUNDERBIRDS RAISE A RECORD $14.5 MILLION FOR AZ CHARITIES
The Thunderbirds – hosts of the WM Phoenix Open Presented by Taylor Morrison – announced the 2023 edition of "The People's Open" raised a record $14.5 million ($14,533,000) for Arizona charities.  This marks the sixth time in tournament history The Thunderbirds and the WM Phoenix Open have raised more than $10 million for charity in a single tournament.
The previous record was set in 2020 ($14 million).  The Thunderbirds raised $10.5 million in 2022.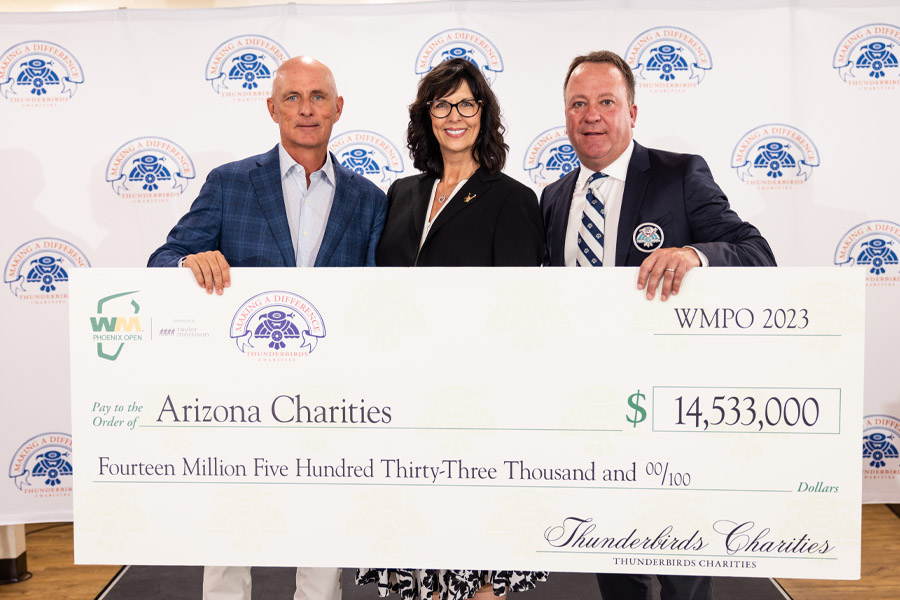 "Giving back to our wonderful communities and helping people and families in need is easily the best part of being a Thunderbird," said Pat Williams, President of Thunderbirds Charities and Tournament Chairman for last year's WM Phoenix Open. "We're immensely proud of once again topping our previous record of charitable donations and reaching the $14 million mark for the second time.  We understand the vital importance of an incredible support network including the best title sponsor in sports in WM, the resolve and commitment to excellence of the PGA TOUR, and, of course, the greatest fans in golf. Enormous charitable impact doesn't happen without everyone working together, and we're incredibly thankful to be a part of something so impactful."
The Thunderbirds and the WM Phoenix Open have now raised more than $124 million ($124,558,224) since 2010 when WM was named title sponsor, and more than $190 million ($190,637,790) for Arizona Charities in its 88-year history as one of the five longest-running events on the PGA TOUR.
"Congratulations to The Thunderbirds for setting another charitable giving record and eclipsing the $14 million dollar mark for the second time in WM Phoenix Open history," said Scott Bradley, WM Four Corners Area Vice President. "The effect this tournament has on the community in benefitting hundreds of Arizona charities and thousands of individuals is absolutely incredible and is a point of pride for WM."
The announcement was made at Fresh Start Women's Foundation, a longtime charity partner of Thunderbirds Charities whose mission is to empower women with the necessary resources and counseling to achieve self-sufficiency and use their strength to thrive.  Thunderbirds Charities most recent donation of $125,000 to Fresh Start helped create the new Thunderbirds Charities Family Law Support Center.  Fresh Start remains the only non-profit in Maricopa County that provides low-cost legal document preparation.  Additional programs and services within the support center include group legal information sessions, special topic classes, and special events such as Law Day for Women to give women the opportunity to meet one-on-one with attorneys who volunteer their time.
"On behalf of everyone at Fresh Start, huge congratulations to The Thunderbirds for reaching this historic milestone. This achievement stands as a shining example of what can be attained when a community unites with a shared vision for the greater good," said Kim McWaters, President and CEO of Fresh Start. "We are immensely grateful to The Thunderbirds for their unwavering support of Fresh Start's mission and the women and families we serve, particularly those who must navigate the often difficult and confusing family court system. Together, we are transforming lives and building a brighter future for all."